Protea Hill Farm

Producers of Award–winning Balsamic Vinegar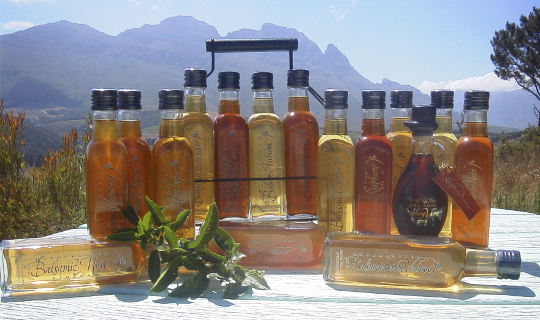 Protea Hill Farm is situated on a hill in the heart of the Stellenbosch Winelands in South Africa. The farm produces fresh fruit for the production of a variety of hand-crafted Balsamic Vinegars.
All fruits and herbs are farmed naturally, no insecticides or pesticides are used on the plants or fruit. They are sun-ripened and harvested in a 100% ripe condition, ensuring that the fruit sugar content is high, giving a sweet taste. Furthermore, no colourants, preservatives, flavour enhancers, molasses, caramelized sugars or any chemical substances are added to the Balsamic Vinegars. The flavour intensity of the Balsamic Vinegars is enhanced with maturation. For this reason, all Protea Hill Farm Balsamic Vinegars are aged for at least three years and are only released once they have reached their full potential in taste and aroma.
In 2006, the 'five year old' Balsamic Raspberry Vinegar won the award of 'Best New Product of South Africa' from the EAT IN Guide and RMB Bank. In the following year, Protea Hill Farm was awarded the 'South African Produce Award' for their unique range of Balsamic Herb Vinegars.
To view our wide range of 26 Natural Balsamic Vinegar Flavours and to find out more, please visit our Product Page. If you have any further enquiries or would like to place an order, please feel free to contact us. All contact information is available on our Contact Page.

'Aside from salt and pepper, acidity is the most important element in the seasoning of food; it should enhance and balance the dish. Vinegars, lemon or limes are most often used, but even wine or the natural acidity of tomatoes are very good choices to elevate a dish, making it light and easily digestible.'




'The Protea Hill range of Balsamic vinegars is an outstanding aid in adjusting acidity. The variety of flavours and aromas can lead a dish in a different direction. We use these vinegars in almost all of our dishes, usually adding them right at the end, just before serving. The great many compliments we receive for the lightness of our food attest to the quality of this product.'
Harald Bresselschmidt
Chef Patron
Aubergine Restaurant
Comments